Pear Cut Diamond Engagement Rings
About Pear Cut Diamonds.
The pear shaped modified brilliant diamond is a modification of the tradition round brilliant diamond. The shape resembles a pear. One side of the diamond is tapered to a point and the other half resembles the round or marquise brilliant cut. Pear cut diamonds consist of 58 facets typically.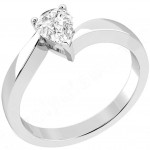 Many of the world's most famous and coveted diamonds are pear cut diamonds. Pear cut diamonds possess one of the world's internally and externally flawless diamonds within its class. The 203 carat beauty took 3 years to transform into the near priceless stone. The diamond was found in the 1990s and is referred to as the De Beers Millennium Star. Elizabeth Taylor possesses a 69 carat pear cut diamond that was given to her as a romantic gift from Richard Burton.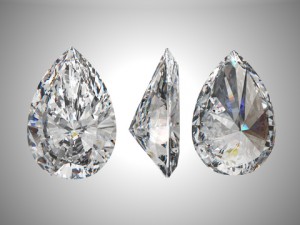 The length-to-width ratio of pear cut diamonds varies depending upon the setting and use. Experts suggest that the length-to-width ratio range from 1.45 to 1.70. Elongated pear cut diamonds work well for pendants and dangling earrings. However, engagement rings are often more visually appealing if the length is slightly shorter. Pear cut diamonds may be vulnerable at the pointed end due to the insufficient girdle thickness. Pear cut diamonds with sub-prime cuts are also prone to the "bow tie" effect. The "bow tie" effect describes a dark area in pear cut diamonds that resembles a man's bow tie.
Pear cut diamonds should at least possess an I color and SI 1 clarity to be considered desirable. The point of pear cut diamonds are most commonly worn with the point of the diamond extending towards the finger tips. However, many individuals choose to wear pear cut diamonds in the opposite position as well. Pear cut diamonds can be placed in a setting with diamond baguettes on either side. The band may be wide or petite and thin. The setting may be gold, white gold, silver or platinum. Designers using the pear cut diamonds as their inspiration can produce some of the most elaborate and elegant creations. Pear cut diamonds yield some of the most creative designs of any shaped diamond produced.