Emerald Cut Diamond Engagement Rings
About Emerald Cut Diamonds.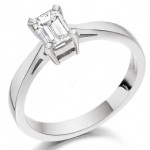 Emerald cut engagement rings are becoming popular again because if their sophistication and traditional charm. Depending on the jeweller you buy from and the specs of the stone and band you choose, they can also be affordable, which makes them an ideal option for couples who are on a tight budget but still want to fulfill the tradition of Western betrothal practices.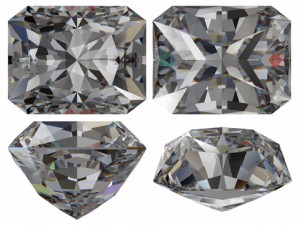 Before you buy an emerald cut engagement ring, you need to have an understanding on the characteristics and quality of this cut and why it may be the best option for your future bride.
What makes this cut so special?
An emerald cut engagement ring is called such because of the shape of its stone. The emerald cut is simply a kind of step cut that is characterized by facets that look like steps carved in the stone. Basically, it is a rectangular shaped cut that has semi cropped corners. This cut was originally meant for emeralds, but because of its sophistication and beauty, it was adapted for diamonds, too. The rectangular shape's long lines provide it with less fire compared to rounder shapes, but it has the benefit of colour flashes that are highly prominent while being reflected in the sleeker gem.
What sets them apart from princess and asshcher cuts?
Emerald cut engagement rings may look similar to asscher and princess cut engagement rings, but you can easily spot the difference by looking at the details. For starters, princess and asscher cuts are square-shaped. However, asscher cuts have corners that are deeply trimmed while princess cuts do not have trimmings at all. An expert jeweler can help you distinguish between these cuts and help you choose the perfect emerald cut engagement ring for your fiancée.
The design and settings for the Emerald cut.
Since emerald cut stones are elongated, accent stones are added on the ring and can be shaped similarly or like tapered baguettes. When choosing the design and setting, consider the appearance of your fiancée's fingers and hand. A solitaire engagement ring with an emerald cut is a good choice if she has long and slender fingers because her natural features can further elongate the stone. If her hands are smaller and her fingers are shorter, though, an emerald cut engagement ring can look disproportionate. Your jeweller may recommend another cut.
Things to consider about the Emerald cut diamond.
An emerald cut engagement ring offers versatility with the right stone. Remember that in emerald cut engagement rings, the cut is highly open so the flaws of the diamond and the colour variations can easily be noticed. Therefore, you must be very conscious of the cut's precision and make sure that it is well proportioned and well balanced. Consider a length to width ratio that ranges from 1.3:1 but will not exceed 1.75:1 if you are opting for a classic cut. However, you can still choose narrower or wider diamonds depending on your preference.
How cost effective is the Emerald cut?
A lot of online jewelers now carry a selection of in stock emerald cut engagement rings, but you can also consider having yours customized to make it more special. In terms of price, you need not worry. The cut is very simple, so it is generally affordable compared to other similar-quality cuts. And since the stone has an elongated shape, it will seem as if it has more carat weight compared to other shapes, so the ring will look more expensive than it really is.
Video about Emerald Cut Diamonds.